As a business, it has become a necessity to integrate secure systems that are robust, easy to maintain, and scalable.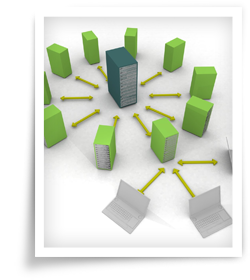 Client/Server applications have always played a key role in the operation of businesses. Ability to input, process, store, and access data from anywhere, at any time, using any device is necessary for business today.
Bridge Technology Systems specializes in the development of high-end client/server applications and robust enterprise applications with user-friendly interfaces. We can also help in developing web-enabled applications and systems.
Your employees, customers, and suppliers need data access that is secure, fast and reliable. As a business, you need secure systems that are robust, easy to maintain, and scalable. We take all of this into consideration when building and upgrading corporate systems and applications.
---
Application Development Experience
Accounting
Distribution/Retail
Financials
Human resource management
Inventory & assets management
Planning
Procurement & ordering
Reporting
Sales & marketing
Workflow & messaging
---
Choose Bridge Technology Systems
Work with the team at Bridge Technology Systems on your application development project. Call 315.635.1695 or visit our custom quote page to get advice and an estimate on your project.